What is employer of record ?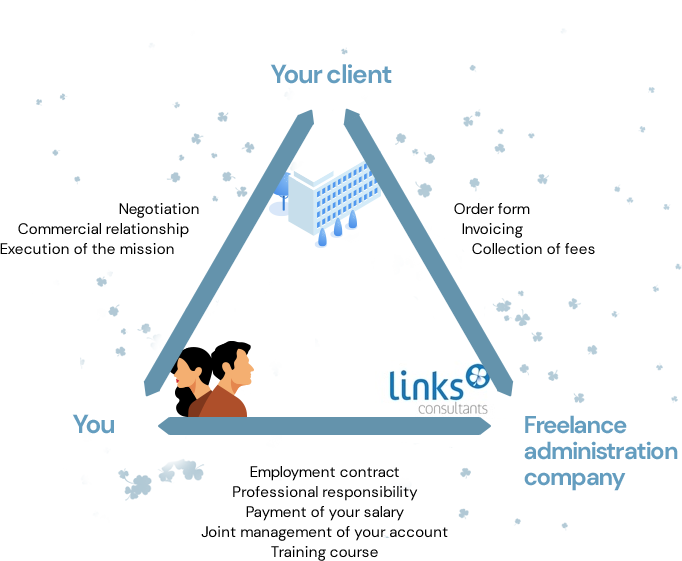 Job creator, at all times.
In an unstable economic environment, companies of all sizes are facing a major challenge : successfully integrating the talent they need through traditional recruitment channels.
New social systems are opening up new possibilities for supporting professional projects according to the situation, pace and desires of each person : freelance work, additional jobs, business set-ups... apart from traditional permanent contracts.
Since 1998, our vocation has been to support the emergence of new ways of working that enable companies and individuals to collaborate with the utmost flexibility.
Links Consultants is a partner of Groupe Actual
The benefits, without the constraints
The benefits, without the constraints. That's been our challenge for nearly 20 years : to help free up work !
By offering individuals the chance to increase the opportunities, strengthen their skills and diversify their projects... and by offering companies easier access to the experts they are looking for.
But at Links Consultants, we have one essential condition : that liberation does not mean job insecurity. Those who choose to be independent (without setting up their own business) do not have to forego the benefits of a stable social security system.
Employer of record, a social innovation.
We were the first to choose to specialize in employer of record from the very beginning. Portage is a mixed system defined by the French Labour Code (art. L 1251-64) "as a set of contractual relationships organized between a portage company, a contractor and client companies, involving, for the contractor, the salaried employee system and remuneration by the portage company for the services provided to the client. It guarantees the rights of the contractor in respect of the clients he/she brings in".
Portage is not an alternative to a permanent contract, which will always be essential. But it does offer new possibilities, and the opportunity for many freelancers to work in a secure environment.
Employer of record
Definition : employer of record services are an essential tool to support consultants, industry specialists, business professionals and entrepreneurs in the development of their professional endeavours.
A regulated status : employer of record services are registered within the French Labour Code under the law n° 2008-596 of June 25, 2008 governing the labour market modernization.
As far as salary is concerned, it is important to note that the fees earned by the consultant are converted into a pay slip, so there is a minimum billing of €250 excluding VAT per day.
Part-time contracts are also possible.
You're already self-employed, or still employed
Whether you're a salaried employee, a self-employed contractor, a freelancer or the manager of a Eurl, employer of record frees up your work by freeing you from constraints. While you concentrate on your business and your customers, we take care of the rest.
Company
We see our business as much more than just placement. Our experience makes the difference in the projects you entrust to us.